The Jayhawk Theatre is a historic and architectural marvel, built as a state-of-the-art entertainment venue and Topeka's first deluxe motion picture palace.  Located in the heart of Topeka's historic Downtown, the Official State Theatre of Kansas is the last remaining historic theater in our Capital City.
A dedicated and passionate team of board members, community leaders, citizens and advocates are committed to returning the Jayhawk to its former grandeur. The goal is not only to restore this treasure because of its historical significance, but to breathe new life and purpose into the Jayhawk Theatre by renovating it into a destination, live entertainment venue and film house.
The Jayhawk Theatre will play a significant role in the continued revitalization of Topeka's downtown. As transformation continues, it contributes to the vibrancy, growth, economic development and quality of life of our great community, region, state and beyond. It will take imagination and dedication, but it can be done. The time is now. The wait is over.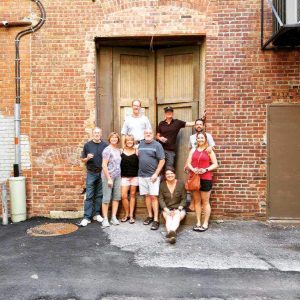 The Jayhawk opened in 1926 with the vision to show the latest technological advances, movie pictures. Unfortunately, by 1974 the aging theater was unable to attract many visitors and closed it's doors. It sat vacant until Rev. Richard Taylor advocated for the theater to reopen and become fully operational again. All of his dedication and hard work paid off when, in 1993, the state Senate passed the resolution naming the Jayhawk the 'State Theater of Kansas'. Since then 1990's restorative efforts have slowly been gaining traction. Please visit our Support page to see how you can get involved to bring this aging beauty back to it's full glory.
Jeff Carson, President
Co-Owner, Gizmo Pictures
Sonia Betsworth, Vice-President
Senior Vice President, Chief Administrative Officer, FHLBank Topeka
John Gonzalez, Secretary
IT/Lead Software Developer, Blue Cross and Blue Shield of Kansas
Bradley Buchanan, CISA, Treasurer
Information Technology Director, Jetz Service Company
Jerry Anderson
Retired, CoreFirst Bank & Trust
Amber Bonnett, MLS
Community Advocate, Downtown Resident
Scott Gales, AIA, LEED AP
President and Partner, Architect One
Irene Haws
Owner/Designer, I-Design Graphic Services
Brendan Jensen
Owner, Jensen Communications
Honorable Nancy E. Parrish
District Court Judge
Joe Scranton
Consultant and Owner, Aspera Associates
Wes Weathers, J.D.
Goodell, Stratton, Edmonds & Palmer, LLP