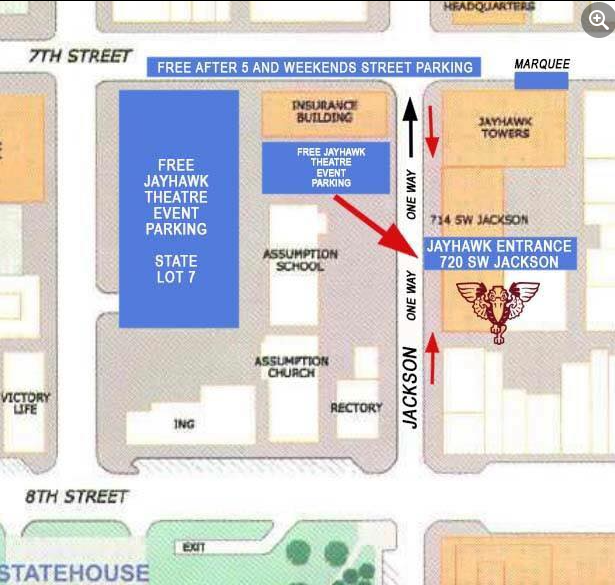 Entrance to all events will be at the double doors on Jackson Street. This entrance is wheelchair accessible.
The doors under the historic marquee on 7th Street are locked during events. This entrance is not accessible through the Jayhawk Tower. 
Street parking is available for free on weekends. On weekdays, street parking is available for free after 5 PM. There are two lots on the east side of the building for event parking.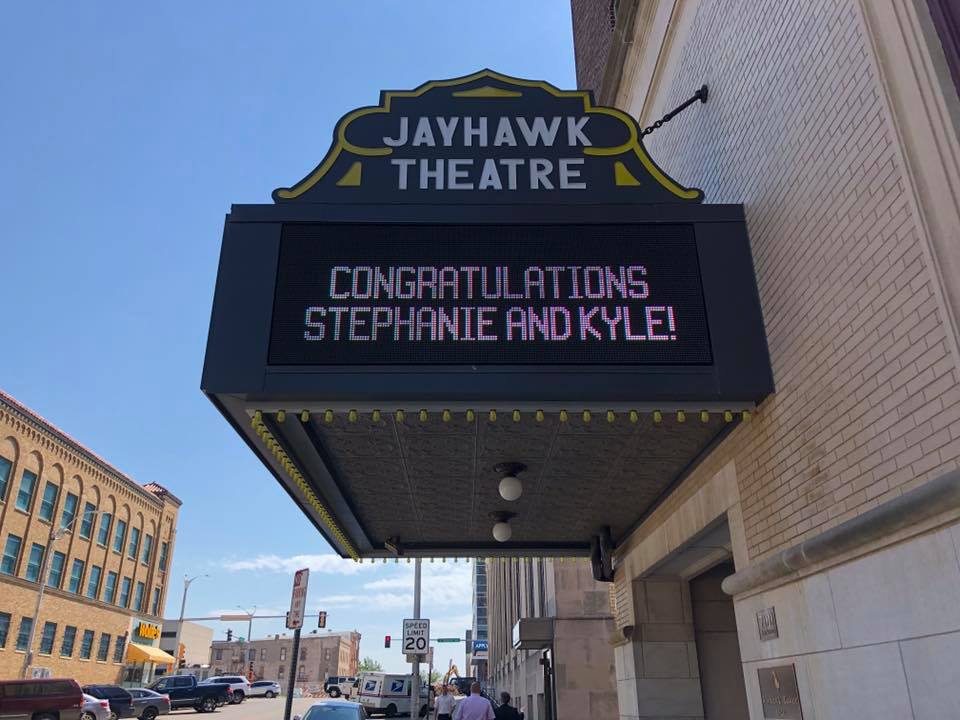 The best way to prevent and slow down transmission is to wear a mask, frequent hand washing and maintain social distancing between you and others.
Masks are recommended.
There is an inherent risk of exposure to COVID-19 in any place where people gather. By entering the venue, you voluntarily assume all risks related to the exposure of COVID-19.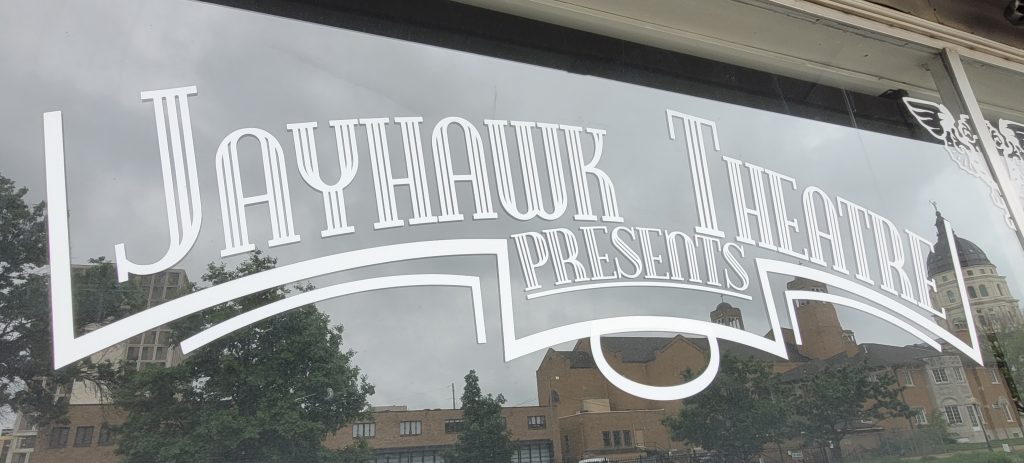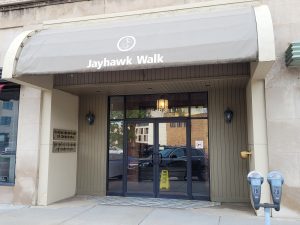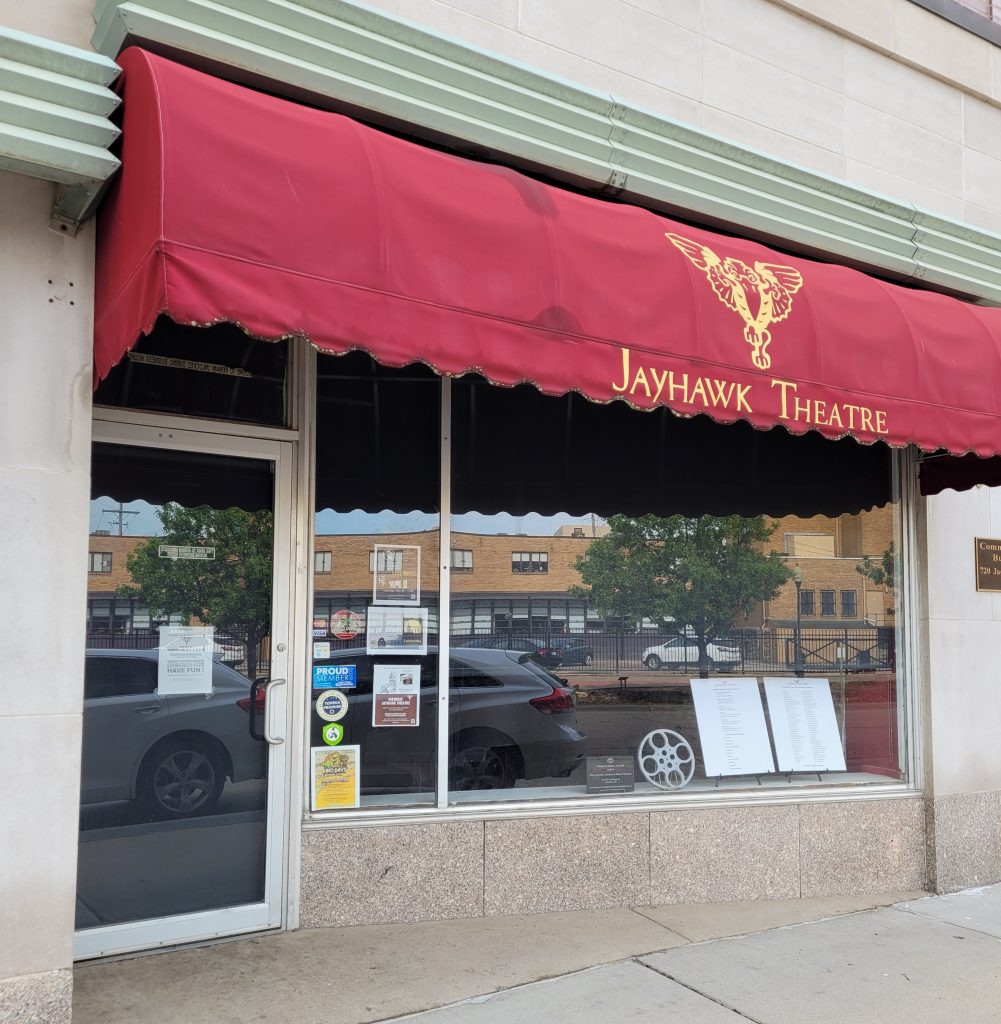 SIDE DOOR
under burgundy awning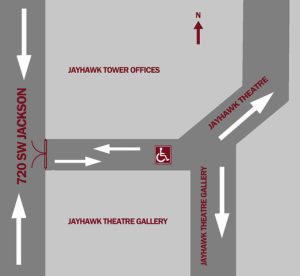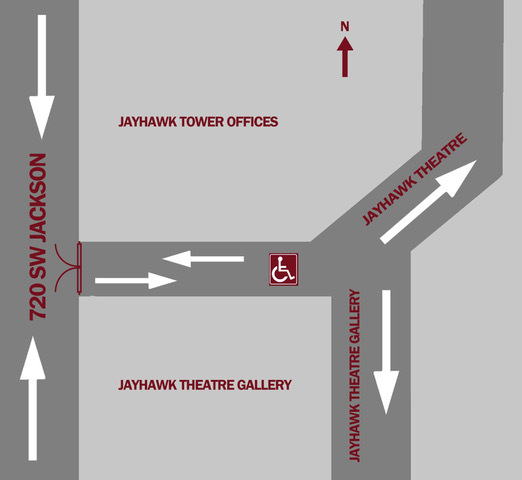 ACCESSIBILITY
There is access to the venue and primary function areas as defined by ADA requirements. The theater is on the National Register for Historic Places and restoration efforts are being made to improve accessibility throughout the entire venue.
The Jayhawk Theatre makes every effort to accommodate people with disabilities. Wheelchair access is made through the exterior double doors at 720 SW Jackson. From there, a ramp will get you to ticketing and entry to both venues. Please let us know if you need assistance with our original historic theatre auditorium entry, which is navigable but is not ADA compliant. Please alert us if you think you need assistance getting in and out of the auditorium. The Jayhawk Gallery and bathrooms are 100% ADA compliant. Please see diagram.
DOORS OPENING
The opening times vary for each event and may be subject to change at any time. Most commonly, the doors open 30 – 60 minutes prior to an event. Please check each individual event for specific details. 
TICKETING & SEATING
Tickets purchased online or by phone are subject to tax and fees not included in the ticket price. Please see specific event for details regarding pricing.
Tickets are sold through Eventbrite. Once you purchase your ticket(s) you will receive an email with an attached PDF file that contains your tickets/bar code. The bar code can be scanned on your mobile device or on a printout.
Please contact Eventbrite regarding a refund or cancellation. Most events are non-refundable.
Seating is General Admission and therefore not assigned. It is on a first come, first served basis. Some events may offer reserved or VIP seating, including special incentives for Top 100 Donors. Please see specific event for more information. 
PROHIBITED ITEMS
Weapons, including but not limited to: knives, guns, box cutters, pocket knives, mace, pepper spray, brass knuckles, fireworks, stun guns, etc.
Laser pointers
Alcohol, drugs, illegal substances, e-cigarettes
Backpacks
Outside food and beverage, bottles, glass, cans or flasks
Heelies, skateboards, roller blades, bicycles, helmets, chairs, beach balls, etc.
Noise making devices, air horns, drums, whistles
Signs, banners, posters, flyers
Other items as determined by venue management
All persons may be subject to search.
FOOD & BEVERAGE
Most events will have food and beverages available for purchase. Sales will stop approximately 30 minutes before the end of the event.
Alcoholic beverages are available for purchase by guests 21 years of age and older. Identification is required to purchase. Bar services are provided by Norsemen Brewing Company with a percentage of gross sales benefiting the Jayhawk Theatre.  All beverages must be discarded prior to leaving the venue.
SMOKING POLICY
The Jayhawk Theatre is a smoke-free facility. There is no smoking inside or directly outside the venue, including the alley. 
HISTORIC JAYHAWK THEATRE
720 SW Jackson St
Topeka, KS 66603
785.233.4295
info@jayhawktheatre.org